Murder accused mother Fiona Donnison to stay silent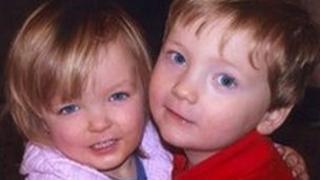 A mother who is accused of suffocating her two children has decided not to give evidence during her murder trial.
Fiona Donnison, 45, a former City of London worker, denies murdering three-year-old Harry and two-year-old Elise.
Simon Russell-Flint QC, defending, told Lewes Crown Court that Ms Donnison had decided not to give evidence.
Harry and Elise's bodies were found zipped up in two holdalls in the boot of a car in East Sussex on 27 January 2010.
The prosecution say she killed the children in order to hurt their father, Paul Donnison, 48, following the breakdown of their relationship.
The court was told Ms Donnison had been advised by her defence counsel that the jury "may draw inferences" by her decision not to give evidence.
'Desperate to understand'
Clinical psychologist Amory Clarke, of London and Maudsley NHS Trust, who assessed Ms Donnison following the deaths of her children gave evidence for the defence.
He said he did not believe Ms Donnison was exaggerating symptoms of mental illness and she rated herself as three on a one to 10 scale of depression - with one being extremely depressed.
The court heard she told him: "I loved my children. I would never hurt my children."
He said: "She presented as being completely uncomprehending about how this was possible.
"She was almost desperate to try to understand how it could have happened. She never denied responsibility, ever."
Dr Clarke added: "She took a really unusual level of responsibility.
"One of the things with clinical psychology is that people sometimes say it was the drink, it was someone else, but with her there was none of that.
"She was very willing to accept responsibility for her behaviour."
Earlier the trial heard Ms Donnison, of Lightwater, Surrey, walked into Heathfield police station and said: "I've killed my children."
The case continues.