M5 reopens after fatal lorry crash at Halesowen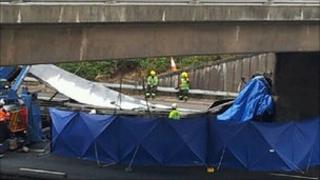 The M5 has reopened following a fatal crash involving a lorry.
It was closed both ways between junction 3 for Halesowen and junction 4 for Bromsgrove after the lorry, which was travelling northbound, hit a bridge and caught fire at about 02:00 BST.
The southbound stretch reopened at about 12:10 BST with the northbound stretch reopening about an hour afterwards.
The lorry driver died at the scene. Police said his family had been told.
Carters Lane, on the bridge above the carriageway, also closed.
The Highways Agency said a crack had developed in the bridge.
Anyone with information about the crash has been asked to contact Central Motorways Policing Group.