Helicopter crash pilot Chris Watts' flying praised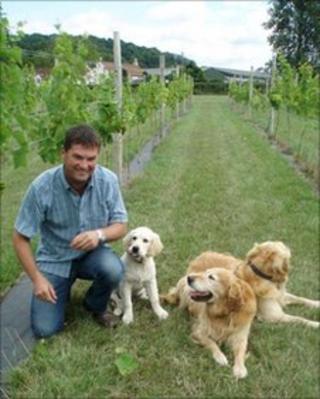 The family of a helicopter pilot who was killed when his aircraft crashed into a field in Cornwall have paid tribute to his flying skills.
Chris Watts, 45, from Wrington in Somerset, was the only person on board the helicopter when it crashed near Bude on Sunday.
Mr Watts was a farmer and businessman who owned and ran Aldwick Court Farm Hospitality in Somerset.
His brother-in-law, David Luck, told BBC News that "flying was his passion".
Air accident investigators have examined the wreckage of the helicopter for clues about what caused it to crash.
It landed in a remote field in between Marhamchurch and Week St Mary, narrowly missing a house and catching fire.
Mr Luck said: "[Chris] had owned a helicopter for about 18 months.
"He was an extremely competent and experienced pilot, I'd flown with him on a number of occasions.
"He was very safety conscious.
"It's a real tragedy."
Mr Watts leaves two sisters and his mother, Mary.
Mr Luck said he had been in contact with the Air Accident Investigations Branch (AAIB) and said he understood the investigation into the crash could take up to six months.