Murder accused mother Fiona Donnison 'not malingering'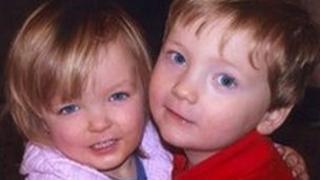 A mother accused of murdering her two young children was not exaggerating symptoms of mental illness during assessments, a jury has heard.
A series of tests was conducted on Fiona Donnison, 45, after the deaths of Harry, three, and Elise, two.
Clinical psychologist Dr Amory Clarke told Lewes Crown Court he believed that on the balance of evidence Ms Donnison was not malingering.
Former City of London worker Ms Donnison denies two counts of murder.
Dr Clarke told the court on Tuesday that some tests carried out on Ms Donnison found evidence she was fabricating her mental illness symptoms and others did not.
Prosecutors allege Harry and Elise were murdered to hurt their father, Paul Donnison 48, following the breakdown of the couple's marriage.
The children's bodies were found zipped up in separate holdalls in the boot of their mother's Nissan car near the former family home in Heathfield, East Sussex.
'Not a psychopath'
Ms Donnison and her children had been living in Lightwater, Surrey, before their deaths in January.
Jurors have heard that Ms Donnison was suffering from depression and was not in her right mind at the time of the killings.
But the prosecution refuses to accept that she was suffering from an abnormality of mind.
Dr Clarke said Ms Donnison had extremely low scores for malingering following the series of tests conducted in April.
One test assessed her for psychopathic tendencies, for which she registered the lowest possible score.
"She is categorically not a clinical psychopath," Dr Clarke said.
"That is relevant to malingering because people with psychopathic tendencies are very likely to malinger.
"Whatever they are charged with, they will say they don't remember the case to try to get a not guilty by insanity. That was not the case with Donnison."
Dr Clarke told the jury that she showed no signs of being calculating or manipulative.
The court heard that another expert found Ms Donnison was fabricating her mental health symptoms but a narrower range of tests were used during those assessments.
The trial continues.