Parents of disciplined boy call for head teacher's reinstatement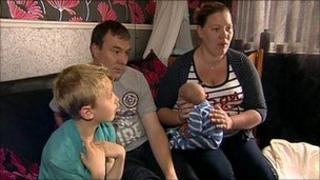 A Cheshire head teacher who resigned after an investigation into the way he disciplined a pupil should return, the boy's parents have said.
James Gallogly was suspended from St Benedict's Roman Catholic primary in Handforth when it was alleged he pinned Ryan Johns, eight, against a wall.
The head teacher has resigned but Ryan's parents said they did not want Mr Gallogly's departure.
Cheshire East Council said the school's governors had acted responsibly.
Ryan's parents Adele Johns and David Deakin were told Mr Gallogly grabbed Ryan, who has epilepsy and is awaiting diagnosis for Attention Deficit Disorder and Asperger's Syndrome, and pinned him to the wall.
"I could see him restraining Ryan as he always has done but I couldn't see him doing that," said Ms Johns."
'Other issues'
She added: "The way he ran that school, the parents looked up to him. You couldn't wish for a better person."
One hundred parents have signed a petition calling for his reinstatement.
A statement from the school' s governors said: "As soon as the issue was brought to our attention, we immediately ensured the head teacher was out of school and commissioned a full investigation.
"When this concluded, the head teacher chose to resign.''
Cheshire East Council said Mr Gallogly had been suspended after other issues around his discipline methods had come to light.
Ryan Johns has now left the school.