Murder accused mother Fiona Donnison 'faked symptoms'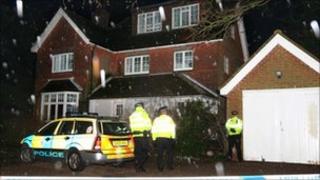 A mother accused of killing her two young children whose bodies were found in Sussex was feigning mental illness, Lewes Crown Court has heard.
Fiona Donnison, 45, of Lightwater, Surrey, denies two counts of murder.
Clinical psychologist Dr Sanya Krljes told the court that Ms Donnison was "100% likely to be feigning" psychological problems or symptoms.
Her evidence contradicted that of clinical psychologist, Dr Amory Clarke, who thought Ms Donnison was not faking.
Bodies in boot
Tests by both psychologists were carried out after the former City worker was charged with murdering two-year-old Harry and three-year-old Elise.
Their bodies were found in holdalls in the boot of a car near the former family home in Heathfield in January last year.
The prosecution claims Ms Donnison killed the children to hurt their father, Paul Donnison, 48, after the breakdown of their relationship.
Jurors have heard claims she was suffering from depression and was not in her right mind at the time.
Dr Krljes said her assessments included a test considered to be the most reliable to detect malingering.
She said: "The test indicated that she was feigning mental and cognitive impairment and therefore her report is considered to be unreliable."
'Difficulty in sleeping'
Dr Krljes, who assessed Ms Donnison during nine consultations, said: "We know that people pre-trial are often more likely to be malingering because of the weight of the situation they are in."
She said there was a "clear discrepancy" in Ms Donnison's test results and the way she presented herself to her and nursing staff.
The psychologist said symptoms reported by Ms Donnison included depression, difficulty in sleeping, poor appetite, poor concentration, motivation and long-standing memory deficiency that became worse after the offence.
But Dr Krljes said nursing staff reported she slept well, often up to eight hours a night, took afternoon naps, ate regularly, did not skip meals and requested fresh fruit.
She also did not have difficulty orientating around the hospital where she was held, suggesting she did not have a poor memory, Dr Krljes said.
Occupational therapy reports showed Ms Donnison also took part in activities including photography, gym, and card-making, and often visited the computer room.
The case was adjourned until Thursday.