North East surfers in RNLI rip current research plea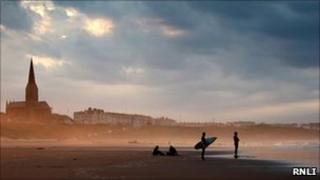 Surfers in the north-east of England have been asked to take part in research into rip currents.
The RNLI has joined forces with the University of Plymouth for the online survey, logging the experiences of anyone caught in one.
The information will be used in future public safety information campaigns.
A rip current is a fast-moving channel of water flowing away from the beach that can quickly take water users far out of their depth.
They were the cause of 38% of all sea-based incidents that the RNLI's lifeguards responded to in 2010.
Users taking part in they survey will be asked about their swimming ability, knowledge, where the experience took place, and how they reacted and escaped it.
The call comes after RNLI lifeguards rescued four teenagers caught in a rip current at Tynemouth Longsands beach in North Tyneside on Sunday.
Sandy Kerr, who was involved in the rescue, said: "Being caught in a rip current is like swimming on a treadmill and it doesn't take long for the strongest swimmer to become exhausted.
"We have known rip currents along our coast, so it would be really helpful if the regions' surfers could help us to understand them better."