Christopher Halliwell in court accused of double murder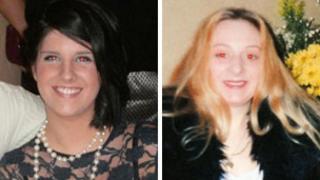 A taxi driver has appeared in court accused of murdering two women.
Christopher Halliwell, 47, of Ashbury Avenue, Swindon, is charged with the murders of Sian O'Callaghan, 22, and Becky Godden-Edwards, 28.
Mr Halliwell, who appeared via video link, did not enter a plea and was told the case would now be assigned to a High Court judge.
Miss O'Callaghan went missing in March after a night out at a club in Swindon and was later found dead.
Her body was found near the Uffington White Horse in Oxfordshire.
The remains of Miss Godden-Edwards, who would have celebrated her 29th birthday in April, were discovered at Eastleach in Gloucestershire by police investigating Miss O'Callaghan's murder.
Mr Halliwell is accused of murdering Miss Godden-Edwards in Swindon on a day between 27 December 2002 and 1 January 2006.
The families of both women attended the hearing.