Baby powder heroin plot men jailed at Hull court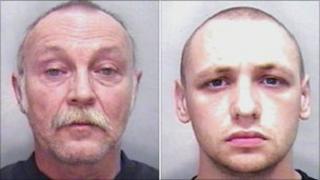 Two men from Hull have been jailed for their parts in an operation to smuggle heroin with a street value of £13m in packets of baby powder.
Parcels were sent to Pakistan from Bradford, before being filled with heroin and returned to Hull.
At Hull Crown Court, Allan Riley was jailed for nine years and Paul Cahalin for 11.
The UK Border Agency (UKBA) is investigating how 94 parcels of the Class A drug got into the UK.
Riley, 57, of Cranswick Grove, and Cahalin, 28, of Halliwell Close, pleaded guilty to conspiracy to supply a controlled substance at a previous hearing.
The charges admitted by the pair related to 28 parcels smuggled into the UK in February and March 2011.
They contained more than 18kg of pure heroin with a street value of £4.5m.
Investigators believe they were part of a larger operation which saw 94 packets smuggled, containing drugs with a street value of more than £13m.
Return to sender
The plot was uncovered after UKBA officers intercepted three undelivered parcels that had arrived at Mount Pleasant Postal Depot in London in March 2011.
Each parcel weighed 5.68kg and contained eight baby powder bottles filled with heroin.
They had been sent to "The International Cricket Ground" in Lahore, Pakistan.
The address was fictional and the parcels had been intercepted and emptied, before being filled with heroin.
The court was told that the "clever part" of the plot had been how the packages were returned "undelivered" to the return addresses in Hull.
As the packages were not treated as imports, close attention at the ports was avoided.
'Nipped in bud'
Officers later found 11 addresses in Hull had received undeliverable parcels from Pakistan, with occupants often being offered £100 by Cahalin to take delivery of the packages.
These addresses included homes in the Walton Street, Preston Road, Longhill, Bilton Grange, Gypsyville, Orchard Park and Greatfield areas of the city.
The court was told that Riley and Cahalin were not the masterminds behind the smuggling plot but looked after the Hull end of the operation.
They secured delivery addresses and made sure the parcels were transported to the Wibsey area of Bradford for the next stage of the scheme.
Deputy director of UKBA Crime Directorate Jim Jarvie said: "This case shows our officers continue to keep one step ahead of drugs smugglers and their attempts to evade our checks."
When asked how unusual this "return to sender" smuggling method was, Mr Jarvie said: "I think it's the first time it's happened with this significant amount of heroin.
"I think we've nipped this in the bud and we're now aware of this particular method of smuggling."