Companies fined over Crewe chemical fire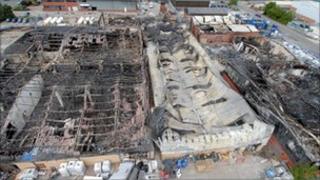 Two companies have been fined following a major chemical fire at an industrial estate in Crewe.
It took more than 100 firefighters to extinguish the blaze at the Gateway industrial estate in June 2007.
The fire, on recycling firm Greenway's premises, was caused by an explosion in an aerosol-shredding unit made by Lancashire firm, Pakawaste.
At Chester Crown Court, the two firms were fined a total of £87,500, plus costs, for safety failures.
The court heard that a 200m exclusion zone was set up while fire crews brought the blaze under control.
Many of the aerosols shot into the air and on to nearby roads, and neighbouring buildings were damaged.
Explosions of drums and cylinders could be heard more than half a mile away, and several surrounding roads had to be closed.
'Extremely fortunate'
An investigation by the Health and Safety Executive (HSE) found the aerosol-shredding machine, manufactured by Pakawaste, was not designed to safely shred containers with residues of flammable liquids and gases inside.
The investigation also concluded that the machine should have been operated in a segregated area, away from flammable substances.
Greenway pleaded guilty to breaching the Health and Safety at Work Act by failing to ensure the safety of workers. It was fined £37,500 and ordered to pay costs of £50,000.
Pakawaste, of Preston, pleaded guilty to failing to ensure the shredding unit was designed and built to be safe. It was fined £50,000, with costs of £87,030.
The HSE inspector, Gill Chambers, said: "There was obviously a fault in Pakawaste's design and manufacturing process which resulted in the shredding unit exploding.
"Greenway should also have had better procedures and arrangements in place to protect its workers and prevent the fire from spreading."
Cheshire's chief fire officer, Paul Hancock, said: "It is extremely fortunate that there were no injuries to members of the public or firefighters."