'Rare' migratory swan cygnet survival at WWT Welney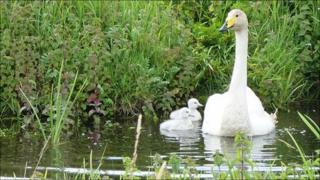 One of two cygnets bred by a pair of migratory swans has survived, creating a rare sight for UK birdwatchers.
Two whooper swan cygnets, native to Iceland, hatched at WWT Welney on the Norfolk-Cambridgeshire border this week after their parents failed to fly home.
With one cygnet dying soon after hatching, the final young becomes the first to survive in Norfolk since 1928, the WWT said.
The RSPB said around three to seven pairs breed in Britain every year.
But the WWT said it was very rare for cygnets to hatch successfully on UK shores.
'Rare spectacle'
The male swan, Romeo, has stayed with the female, called Julietta, after she was injured in the UK.
It is thought she struck power lines and may not fully recover to fly again.
"They hatched a brood despite the odds being stacked against them... we're really pleased for them," said Leigh Marshall, reserve manager at WWT Welney.
"Visitors are coming to see the rare spectacle, but showing the utmost respect."
A spokeswoman for Wildfowl and Wetlands Trust said it was likely the parents would continue to look after the remaining cygnet until it decides whether or not to migrate back with the next wedge of whooper swans in April.
Thousands of whooper and bewick swans from the Arctic region settle on the Cambridgeshire fens and north Norfolk coast every winter.