MPs call for fans to be handed more power over football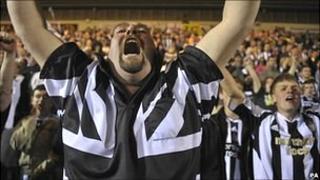 MPs have given football fans fresh hope they could get an opportunity to own the clubs they support.
The Commons has been looking at the way football is run in England.
It has produced a series of recommendations, including improvements to the management of the Football Association. (Some would say it could hardly get any worse given its recent problems).
It also wants to see football clubs monitored through a licensing system to prevent them getting into financial trouble.
But the committee has also examined the involvement of supporters in their clubs.
It came across some good examples of consultation even at Premier League level.
Sunderland get particular praise in the report for involving their fans, and the report calls for other clubs to follow their example. Arsenal and Liverpool are also praised.
But the committee also looked at how supporters might be able to gain a stake in their clubs.
The MPs say it is currently far too difficult for fans to try and take over teams.
Funding access
Supporters' trusts have been formed by groups of fans, but according to the committee they face too many hurdles when it comes to raising money.
The report calls for a change in the law to give trusts special status.
The MPs say they could also be set up as Community Interest Companies or social enterprises. That could give them more access to funding.
The committee also wants to see legislation to protect groups of supporters who already have minority stakes in their clubs. At the moment, a buyer can force them to sell their shares.
And fans could also get a better chance to take over their club if it goes bust.
The report suggests supporters' trusts should be given an opportunity to match any bid for an insolvent club before it is sold.
Club ownership
Some of those changes would please the Newcastle United Supporters' Trust.
It campaigned before last year's election for changes in the law. The Trust has been keen to take over ownership of the club from Mike Ashley but has found it tough to mount a realistic bid.
But it seems unlikely the report will suddenly see fans take over England's biggest clubs.
In evidence to the committee, the Sports Minister Hugh Robertson makes it clear that there will be a limit to fan power.
He doubted there was any room for supporters to own the biggest clubs - potentially ruling out the idea of a trust running a Newcastle or Manchester United.
Hugh Robertson also said there was little scope to offer tax breaks to trusts in the current climate.
And the committee does not see an end to foreign ownership of English clubs.
Instead it wants to see the "fit and proper person" test applied more rigorously to potential owners of any nationality.
It also hopes foreign owners make an effort to appreciate the culture and heritage of the clubs they take over.
Football heritage
Sunderland's American owner Ellis Short gets a mention. The club chairman Niall Quinn says he had spoken to Short about the need to understand the emotion surrounding the club.
But Niall Quinn says the Sunderland model works well because Ellis Short has fully bought into the club's history and potential, and wanted "to go with the fans on an adventure".
John Whittingdale, the committee chair, said: "Significant changes need to be made to the way the game is run to secure the future of England's unique football heritage, and the economic and community benefits it provides.
"The FA is the organisation for the job, but it has some way to go getting its own house in order before it can tackle the problems in the English game, and address the future.
"We need a reformed FA to oversee and underpin a rigorous and consistent club licensing system and robust rules on club ownership, which should be transparent to supporters."
So some progress, but it still seems unlikely we'll see an English Barcelona any time soon.