Felbrigg Hall tree tragedy: Teenage victims speak out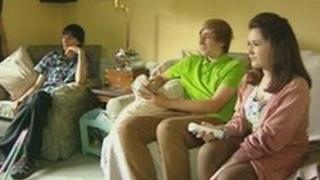 Three Essex children injured by a falling branch have spoken publicly for the first time about the accident that killed one of their classmates.
Harry Bowen, Max Farley and Katie Farthing, all of West Bergholt, near Colchester, this week lost a bid for compensation from the National Trust.
The trust owns Felbrigg Hall, Norfolk, where the children were injured and classmate Daniel Mullinger was killed.
A High Court judge ruled on Wednesday the trust was not to blame.
Daniel, then 11, died instantly when the 70ft (21m) branch fell from a 180-year-old beech tree, in the Great Wood at the 17th Century stately home, in June 2007.
'Bad nightmares'
His mother Wendy and the families of Harry, Max and Katie, all now 15, had sought damages following the accident that happened while they were on an excursion with Heathlands Church of England Primary School, West Bergholt.
Max and Katie suffered multiple fractures and were left with psychological problems.
Katie told BBC Look East: "I remember just looking around and the ambulances were on their way.
"I remember Daniel was to the left of me but they were saying 'Look the other way'."
Max talked about how he had received counselling.
"That helped me quite a bit because I used to have bad nightmares about it," he said.
Harry nearly died from pelvic and internal injuries and will need a double hip replacement.
He said: "I try not to look on the negative side because there's no point in looking at the downsides.
"I do say I have got bad luck - it's terrible luck. I don't know if I'm bitter but I sometimes do wonder if there is a God why did it happen and what was the purpose of it?"
Lawyers argued the tragedy would have been averted had inspectors spotted a defect in the ancient beech tree and "tagged" it for remedial action.
But Mr Justice Mackay rejected the claim the trust's tree inspectors failed to exercise reasonable care.
'Arrogant attitude'
Tracy Bowen, Harry's mother, said: "If we had got the judgement that we wanted he would have had some financial backing to help him with things as he got older."
Regarding the National Trust, she said: "They could say sorry. They have never apologised for what's happened.
"I think they have quite an arrogant attitude towards the whole thing."
The trust said it was a charity "entirely independent of government funding", which restricts the way it uses its resources.
"As such, we're unable to offer the use of these funds in this case," a spokesman said.
"All of us at the National Trust wish this had never happened."