Britannia Naval College and HMS Raleigh merge concern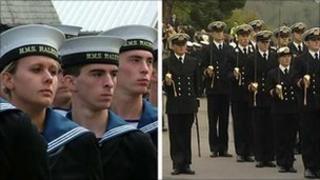 Concerns have been raised by the mayors of Dartmouth and Torpoint after leaked documents seen by the BBC revealed two naval training bases could merge.
Papers revealed Cornwall's HMS Raleigh and Devon's Britannia Royal Naval College (BRNC) could move to one site.
Both mayors said they had not heard anything officially. Torpoint Mayor Edward Andrews said if the base closed, it would be "economically devastating".
The Royal Navy said it would not comment on leaked documents.
The Royal Navy documents seen by the BBC South West revealed the merge option as part of armed forces changes.
Mr Andrews added: "It's only speculation, we shouldn't panic just yet."
Dartmouth Mayor Paul Allen said these uncertainties were having an impact on the community.
Richard Rendle was the former mayor of Dartmouth and worked at the BRNC for more than 40 years.
He said: "I'm worried about the way this has been leaked out."
Mr Rendle said he was confident that Britannia Naval College would remain training officers in 10 years' time.
"If the nation allows this to happen, we would regret it very much," he said.
Other Royal Marine activities could be moved within the Devonport base, the document said.
The move follows the Strategic Defence and Security Review (SDSR) in 2010 to decide the future shape and size of Britain's armed forces.