Support for restoration of Buckingham Canal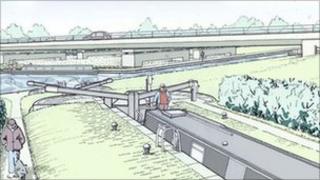 A Northamptonshire council has pledged its support for the restoration of the Buckingham Canal, which closed down in the 1960s.
The waterway from Cosgrove Lock to Buckingham ran for a total of just under 11 miles (17.7 km) and was used to transport bricks and coal.
The Buckingham Canal Society (BCS) wants to restore the canal, using the original route where possible.
South Northamptonshire Council said it would give advice on funding to BCS.
Much of the canal is now dry and parts have been built over.
BCS said certain sections of the route would have to be built anew because of development that had taken place in and around the Northamptonshire and Buckinghamshire village.
Early in 2010 BCS commissioned an outline feasibility study for the waterway's restoration.
The report concluded that it was a feasible project, though significant money would be needed.