MPs press minister on Raleigh and Britannia navy bases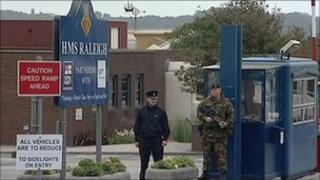 MPs have called for clarification from Defence Secretary Liam Fox on the future of two navy training bases.
Leaked documents revealed HMS Raleigh in Cornwall and Britannia Royal Naval College (BRNC) in Devon could move to one site.
Sheryll Murray, MP for South East Cornwall, and Totnes MP Sarah Wollaston have raised concerns about the proposed changes.
The Royal Navy said it would not comment on leaked documents.
HMS Raleigh, at Torpoint, is a basic training base for all new recruits and BRNC at Dartmouth is an officer training base.
The document from the Estate Rationalisation Programme follows the Strategic Defence and Security Review in 2010 to decide the future shape and size of Britain's armed forces.
Mrs Murray said she had received "categoric assurances" last October from Dr Fox about HMS Raleigh.
She said: "It states that there are no plans to close HMS Raleigh and they are looking at HMS Raleigh being a prime location for initial sea training."
She said she had "no reason to doubt that Dr Fox isn't telling me the truth" but she would be writing to him for reassurance.
Totnes MP Sarah Wollaston believes Dartmouth should be the new site for all training and is also calling for clarification.
The document also raises the prospect of Plymouth becoming a base for 45 Commando, currently based in Arbroath, Scotland.
Plymouth is already home to 3 Commando Brigade, 42 Commando and 29 Commando Regiment Royal Artillery.