Devon and Cornwall crash drivers caught drunk more than double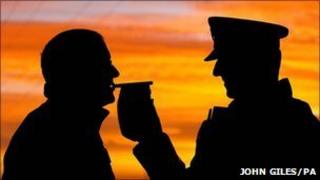 The number of motorists caught drunk behind the wheel after a crash has more than doubled in Devon and Cornwall.
The figures were released by the police following a month-long campaign targeting drunk drivers in June.
While the number of positive tests fell overall from 209 in June 2010 to 141 this year, the positive tests following a collision rose from 20 to 49.
Insp Richard Pryce said that even one driver over the limit was "one too many".
It is the second year the overall figure has gone down - in June 2009, 230 drivers failed the test.
Ban 'stigma'
"The number of positive tests has decreased during the last two years, but it is disappointing to see this year that the number of collisions where alcohol may have been a factor has shown a marked increase," Insp Pryce said.
"Although some of these collisions would have been relatively minor it does not change the fact that had those involved not consumed alcohol or drugs, the collision may well not have happened."
Insp Pryce said that with the number of vehicles on Devon and Cornwall's roads at its peak during the summer months, officers would continue to target motorists who were under the influence of drink or drugs.
"If you are going to drive, do not consume any alcohol," he said.
"One driver over the legal limit is one too many and has the potential to cause misery not only to the victim of a collision, but also to the driver."
He added that a driving ban was likely to have a profound effect on someone's employment and quality of life as well as the social stigma of being a convicted drink driver.
The summer campaign in an initiative run in conjunction with the Department for Transport.