Parents sue over death of Kent sea cadet off Gosport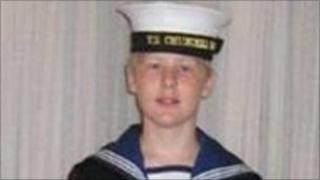 The family of a 14-year-old sea cadet who died after falling from a training ship are to seek compensation.
Jonathan Martin, from Ashford, Kent, had been on the TS Royalist, anchored at Stokes Bay, off Gosport, Hampshire, when he died on 2 May 2010.
An investigation found he had unclipped his harness while on the ship's rigging and fell backwards, striking the side of the ship and falling in the sea.
The Marine Society & Sea Cadets said safety was of "paramount importance".
However, Andy Martin said his son had been "let down by a lack of safety precautions".
The family's solicitor Trevor Sterling said: "If Jonathan had been involved in an activity at height on land, the organisers would be under obligation to follow strict health and safety laws, but these laws have exemptions for vessels."
'Devastating loss'
Mr Sterling criticised the Sea Cadets' "inadequate" safety provisions and said the harness had been "designed to prevent users getting to a height where they can fall rather than protect a user if they do fall".
He said there was a lack of adult supervision and that the family was pushing for a review of health and safety laws.
Mr Martin said: "We hope taking legal action will raise awareness of the need for health and safety guidelines for young people taking part in activities on vessels to be improved.
"The loss of Jonathan has been devastating to our family and we will never get over it."
Martin Coles, chief executive of the Marine Society & Sea Cadets (MSSC), said "The safety of our staff, volunteers and cadets, in equal measure, is of paramount importance to the charity as evidenced by the 30,000 cadets who have sailed on the tall ship over the last 39 years without similar incident.
He added: "We fully recognise the importance of never resting in continual improvement of our safety regimes across all our operations."
"Working with the Marine Accident Investigation Branch (MAIB) and with the support of the Royal Navy we have ensured that the MAIB's recommendations, reported earlier this year, have been fully reflected in all that we do."
The MAIB report said the teenager had unclipped his harness "contrary to his training and onboard procedures for work at that position" before falling 25ft (7.5m).
It said the incident had "highlighted concerns regarding the supervision of the cadets when aloft on the vessel's masts and rigging, and the suitability of the belt harnesses provided".
The teenager was one of 19 sea cadets and 10 staff on board the brig at the 2010 Sea Cadet Festival.