Traps to catch 'killer' shrimps invading Yorkshire lakes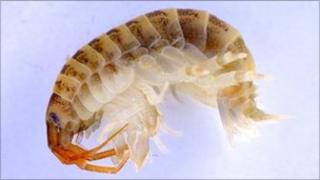 Traps are being deployed in a bid to track 'killer' shrimps which could be invading Yorkshire's waterways.
Environment Agency officers are investigating the extent of the spread of the invasive species known as Dikerogammarus villosus.
It grows up to 30mm long and kills a range of native species, particularly native shrimps and young fish.
Traps are being set up at selected lakes in Yorkshire which are thought to be most likely to contain them.
The Dikerogammarus villosus shrimp, which has gained the nickname 'killer' as a result of its vociferous appetite, has spread across most of western Europe over the last ten years.
The Environment Agency said insects such as damselflies and water boatmen could also be at risk with knock-on effects on the species which feed on them.
Paul Curry, from the Environment Agency, said: "We'd encourage all anglers, wherever they are fishing, to check, clean and dry their tackle, as that will help to stop the spread of invasive species and disease."
Traps are being set up at the following locations: Scaling Dam Reservoir, Whitby; Grinwith Reservoir, Pately Bridge; River Ouse at Naburn; Farnham Lake, Knaresborough; River Derwent; Wintersett, Pontefract; Yeadon Tarn; Swinsty Reservoir, Ilkley; Fewston Reservoir, Ilkley; Pugneys Country Park, Wakefield; Hornsea Mere; Rother Valley Country Park, Rotherham and Ulley Reservoir, Rotherham.