Staffordshire Hoard X-rayed by Birmingham museum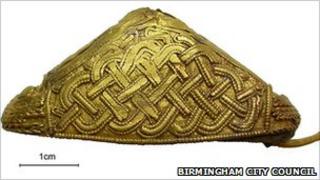 Conservation experts in Birmingham are using 21st Century techniques to shed more light on the origins of the 1,400-year-old Staffordshire Hoard.
Birmingham Museum and Art Gallery conservators are employing a technique called X-ray Fluorescence (XRF).
It lets them analyse the exact metallic make-up of the treasure.
More than 3,500 Anglo-Saxon artefacts were discovered by a metal detector enthusiast in a farmer's field in Staffordshire in July 2009.
'Fascinating story'
Using the XRF technique, curators have already discovered that some of the hoard artefacts contain 94% gold (about 22 carat).
Experts say this may explain why some objects are very worn in places because gold is very soft unless it is alloyed with other metals.
Birmingham museum curator David Symons said: "Experts are currently piecing together the fascinating story of the hoard and through this technique we can understand so much more about this magnificent find.
"X-ray fluorescence has added to our growing knowledge of the hoard, making it possible to carry out detailed and accurate analysis of the composition of artefacts, something that would have been much more difficult in the the past."