Eton Dorney uses rowing event as London 2012 test run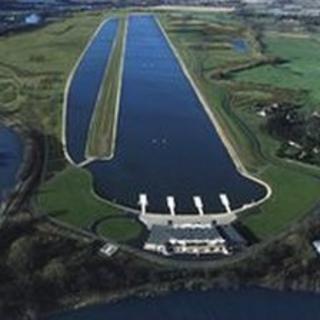 Competitors at the World Junior Rowing Championships have started testing out facilities which will be used by athletes during the 2012 Olympics.
Six hundred rowers are taking part in the five-day event at Eton Dorney Lake, near Windsor.
The championships are a chance to test the course, transport, timing and media arrangements at the rowing lake.
Up to 5,000 spectators are expected at the event. Competitors are staying at Royal Holloway College in Surrey.
'Incredibly exciting'
Debbie Jevans, director of sport for London 2012, said: "It's incredibly exciting to see our work come to fruition and to see elite athletes competing on the lake.
"We can see how it will be in 2012. There is a view of Windsor Castle in the background, so it looks fantastic.
"It's one of the best rowing facilities in the world."
Eton Dorney, which is owned by Eton College in Berkshire, will host the Olympic and Paralympic rowing and flat water sprint canoeing events in 2012.
The bridge at Eton Dorney has been widened and new lane markers put in place in order to make the venue suitable for canoeing as well as rowing events.
The Olympic events are expected to draw up to 30,000 spectators a day.
The Olympic competitions at Eton Dorney will run from 28 July to 11 August and the Paralympic events from 1 to 3 September.
The junior championships will conclude on Sunday.