Holidays 4 UK: Holidaymakers' compensation plea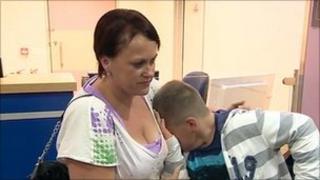 Holidaymakers whose plans were wrecked when a tour firm collapsed may have to wait up to eight months for compensation.
Brighton-based Holidays 4 UK went into administration on Wednesday - forcing the cancellation of 20,000 bookings.
The firm, which offered package deals mostly to Turkey, was covered under the Air Travel Organisers' Licensing (Atol) rescue scheme.
But some customers have been told they must wait months to get their cash.
Laura Gardyne, from Dundee in Scotland, was due to fly to Turkey in September.
She said "We have to wait to receive our money back and this could take up to eight months. I think it is an absolute disgrace.
'Corporate failure'
"People should be getting their money back cash in hand or offered another holiday booked at the same time."
The Civil Aviation Authority (CAA) which runs the Atol scheme is dealing with refund claims.
A CAA spokeswoman said thousands of people had forward bookings but some might be able to find alternative holidays, and it was not yet known how long it would take to process refunds.
She said: "We wouldn't be able to say how long. We haven't got to that point yet, but it's probably months rather than weeks.
"The sooner they get their claim forms in, the sooner we can start processing it."
Shadow culture minister Gloria De Piero said families should not pay the price for "corporate failure".
"Everyone who had a summer holiday booked with Holidays 4 UK should receive their compensation as soon as possible, so they don't miss out on a holiday this year."
'Totally devastated'
Thousands of holidaymakers were forced to make alternative plans when administrators PricewaterhouseCoopers were called in.
Lisa Wallace, of Hartlepool, has been forced to spend £6,000 re-booking her flights for 14 family members.
She said: "We were due to fly out to Turkey today but now we have to wait a week. We have closed our family business for two weeks.
"We were going for my son's 18th birthday. We are all totally devastated."
The tour operator which currently has 12,000 holidaymakers abroad, operated from seven UK airports.
The Foreign Office said the Civil Aviation Authority would ensure all customers were able to fly home as planned.