Crewe's Lyceum Theatre plans 100th anniversary exhibition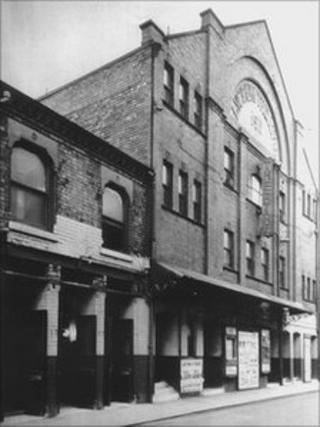 An exhibition of memorabilia is to be the centrepiece of celebrations to mark the centenary of Crewe's Lyceum Theatre.
Highlights include signed photographs from Jack Wild - the Artful Dodger in the film Oliver! - and a programme of a Hamlet production featuring the late Richard Beckinsale, star of TV comedy series Porridge.
For the last few months however, members of the public have also been urged to send in photographs, programmes, other memorabilia and their theatrical stories.
The theatre's marketing manager, Philippa Unett, says that they have had a "fantastic response".
"We want to try and preserve people's memories of going to the Lyceum so we can build an online archive."
The haul, which will be put on display later this month, includes photo negatives, autograph books from the 1920s, illustrations and posters of stars of the time, such as one whose stage-name was Mr Pimple.
'Mauled on stage'
Found in an old brown envelope, was one of the more unusual contributions - photos of a lion tamer performing in the theatre.
"We used to have regular circuses in the 1950s with lions, elephants - you name it we had it," said Ms Unett.
"We had a few instances of people getting mauled on stage and carted off to hospital. But luckily, no major damage was done."
The anniversary celebrations come in the wake of government funding cuts, which threatened the theatre's closure, last year.
However, now the building features on the Theatres Trust "at risk" register and Cheshire East Council has confirmed it will provide funding until 2012.
The exhibition, called the Illuminos Centenary Project, will be open to the public from 26 August until mid September.
A week-long programme of performances to celebrate the Edwardian theatre's 100th anniversary runs from Monday, 5 - Saturday, 10 September.
The original Lyceum Theatre was destroyed by a fire in 1910, with a new theatre being built on its present site the following year.