London men jailed for Newton Abbot 'execution' attempt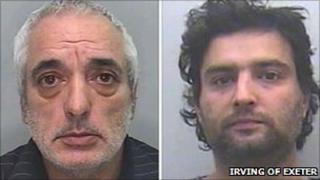 Two men who travelled from London to Devon to "execute" a relative have been jailed for attempted murder.
Roger Khan, 57, of Basildon Road, Eltham, London, and his nephew Mohammed Ali, 39, of Rokeby Street, Stratford, London, had denied the charge.
Exeter Crown Court heard restaurant owner Nasim Ahmed suffered appalling injuries in the "murderous" attack at his Newton Abbot home in October 2010.
Judge Graham Cottle jailed Khan for 30 years and Ali for 27 years.
Mr Ahmed was attacked with a metal bar and stabbed with a knife as he arrived at his home.
The assault only stopped when the victim's wife Alhala Khatun heard his cries for help and her screams alerted neighbours and the two men ran off.
Judge Cottle said the pair attacked Mr Ahmed who had been accused of an historic sexual offence against a female member of the family, although no complaint was made to police until after the Devon attack.
Passing sentence he said: "I have no doubt that it was this unproven allegation that was the motive behind your murderous attack.
"This was effectively an execution. I have no doubt that as you hurried away into the night you believed that you had done more than enough to carry out your joint plan to kill Nasim Ahmed."
The judge said it was a premeditated and planned revenge attack which left the victim with a dreadful injury and his family in fear of reprisals.
Mr Ahmed suffered a fractured skull in the attack and a hospital consultant said the victim's wounds ranked amongst the worst he had ever seen.