Bomb blast soldier Mark Palin's funeral in Plymouth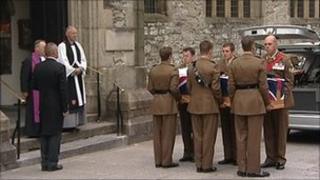 The funeral service of a soldier killed in a bomb blast in Afghanistan has been held with full military honours in his home city of Plymouth.
Cpl Mark Palin, 32, of Gloucestershire-based 1st Battalion The Rifles, died on 18 July during an operation to recover bomb components in Helmand province.
The service, at St Andrew's Church, is being followed by a private burial.
Before the service, he was described by Maj Alex Price as "the epitome of the spirit of the battalion".
'Committed and brave'
Maj Price, of 1 Rifles Rear Ops Group, said Cpl Palin was known as "a battalion personality through and through".
He said: "Cpl Palin died leading from the front, as was his way.
"Fearlessly brave, he was hugely respected by his riflemen and greatly relied on by his commanders.
"A more selfless man you could never meet, and we all will miss him dearly.
"He was the epitome of the spirit of the battalion: relaxed, professional, committed and brave."
About 1,000 people were at the service for Cpl Palin, nicknamed "Muldoon".
Members of the Royal British Legion, provided a guard with regimental flags as the coffin entered the church.
Among those attending were General Sir Nick Parker, Commander-in-Chief of Land Forces and Colonel Commandant of The Rifles.
Rifle salute
Gen Parker presented Cpl Palin's wife, Carla, with the Rifles' Wreath, Union Flag, Cpl Palin's waist belt, medals and his forage cap.
At the end, six soldiers, friends of Cpl Palin, fired a three-shot rifle salute outside the church.
Cpl Palin enlisted in the then Devonshire and Dorset Regiment as a teenager in 1996, and had previously served with the Army in Iraq and Northern Ireland.
He was the 377th British soldier to have died since operations began in Afghanistan in 2001.
He was married to Carla, with whom he had a young son, Lennon. Mrs Palin is pregnant with their daughter.
He also leaves behind his father, Paul; brother, Matthew; and sister, Louise.