Navy commander Anthony Gray jailed in school fees fraud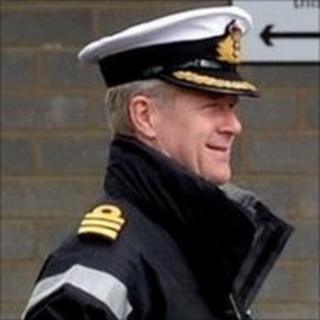 A Royal Navy commander has been jailed for six months for claiming expenses to send his children to boarding school.
Commander Anthony Gray, 49, based at MoD Abbeywood, Bristol, was convicted of nine charges of dishonestly claiming allowances at Portsmouth Naval Base.
Gray claimed the cash when he was no longer the children's "prime" carer, a court martial heard.
He was dismissed from the service and told to pay back the full amount of the claims, £52,999.40.
He was cleared of a further four charges of fraud.
Dismissing Gray, Judge Advocate Alistair McGrigor said: "We understand the devastating consequences on you and your family.
"The clang of the prison door will be your greatest punishment."
Judge McGrigor said they viewed Gray's claims to be false when he started paying child support allowance (CSA) for his daughter, which indicated he was no longer the main carer for his children, having separated from his wife.
From this point he was no longer entitled to the continuity education allowance (CEA), which enables children to stay in the same schools if the military parent is forced to move.
Despite this, Gray continued to claim it and used the money to send his children, then aged 15 and 11, to Kingswood School in Bath.
'Not jet-setting'
Mrs Gray, who was called as a prosecution witness, told the court her husband had left her with no financial support when they sold the family home in Bath.
She said she had used her half of the proceeds to buy a three-bedroom house which became the family home and received no other income until October 2007 when she gained employment as a charity shop manager and Gray started paying CSA.
Bob Williams, defending, told the court the defendant believed he had been eligible for CEA after receiving advice and considered himself the "prime mover" because he continued to pay for much of the children's expenses.
"This was not to finance some lavish lifestyle, not a jet-setting existence, they [the expenses] were spent on what they were designed for, the education of his children."
Gray will be entitled to an annual pension of £32,000 and a lump sum of £96,000 on leaving the service.