Ban for Darlington versus Newcastle pitch invader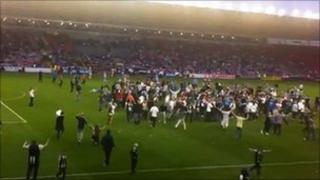 A teenager has been banned from matches after running on to the pitch during a pre-season friendly game in Darlington.
The youth invaded the pitch, along with dozens of others, when Newcastle went 2-0 up against Darlington on 15 July.
Appearing before Darlington Youth Court he admitted entering a playing field during a football match.
He was banned from matches for three years and fined £85. Two men were given banning orders last month for invading the pitch at the same match.
Durham Police said more than 9,700 fans were at the game.