Richard Plummer's friends in bike ride to help family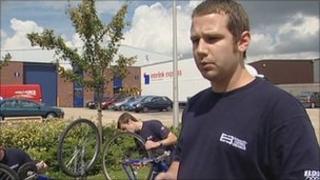 Friends of a man flown home from Indonesia in a coma were cycling from Maidstone to Brighton to raise money to help his parents pay for the rescue.
A benefactor gave a £80,000 loan to fly Richard Plummer home after a motorbike accident but his family's home is at risk if they cannot repay it.
Four former colleagues from Kent were cycling 65 miles from Maidstone to Brighton on Saturday.
"We are not athletes so it is going to be quite difficult," said James Cade.
"The Plummers have been loaned some money to pay for the medical bills but it is a loan so they need the money.
"We are just trying to raise as much as we can to pay off the medical bills and for his flight back to England."
Mr Plummer, 32, worked as a van driver at Edwardes Brothers in Maidstone before travelling to Bali, where he had lived since 2009.
He was flown back to the UK on Sunday and was taken to Maidstone Hospital.
Mr Plummer has been in a coma since the crash on 1 July.