Allotment wait for thousands across southern England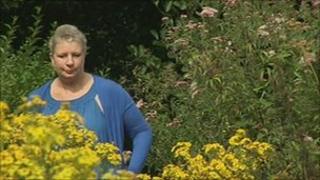 A group of would-be allotment holders in West Sussex are among more than 11,000 people in the south of England waiting for plots of their own.
Despite its name, Bosham Allotment Group has no land after a failed bid to obtain planning permission to convert a disused field in the village.
It is now hoping to find a site through a Landshare scheme set up by TV chef Hugh Fearnley-Whittingstall.
A survey found some areas have more people waiting than plots in use.
Ahead of National Allotment Week, which starts on Monday, the National Society of Allotment and Leisure Gardeners found only 230 new plots were created in the South last year.
Waiting lists closed
Its annual survey found that in Poole, Dorset, there were 429 plots in use and 918 people waiting for one to come free.
In Southampton, Hampshire, there were 1,700 plots being used and more than 2,000 people queuing up to take one.
A number of local authorities, including Arun District Council, Eastleigh Borough Council and Mid Sussex have closed their waiting lists.
"I am bereft - very sad - we don't have an allotment," said Karen Ongley-Snook, founder of Bosham Allotment Group.
"We were very excited about the possibility of having one but we are [still] looking for land."
The Landshare website was set up by Mr Fearnley-Whittingstall to match would-be growers and those with land available.
The National Trust is among landowners taking part and has released enough land for up to 1,000 allotments, on country estates across Britain.
Among them are 16 plots in Slindon, West Sussex.
"I used to suffer from panic attacks but now I come up here for a few hours each night after work and just chill out for an hour or two, it's great, lovely," said one of the allotment holders, Andy Carver.
BBC Radio 4 Gardeners' Question Time panellist Pippa Greenwood, who lives near Liss, in Hampshire, believes allotments are good for people's wellbeing and wants to see more of them.
"Any land, particularly land close to housing, has got a very high price on it and it's worth selling it for building land," she said.
"You combine that with an increase in interest and you've got a serious lack of allotments."