Catherine Zaks: Parents' shop raided after murder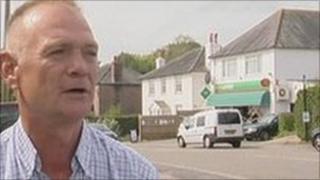 Friends have expressed their disgust after an East Sussex sub-post office run by the parents of a student murdered in Poland was burgled.
Wages were stolen from the post office in Staplecross run by the parents of 21-year-old Catherine Zaks while they were in Poland to attend her funeral.
"Most of the village are horrified," said family friend Stephen Christmas.
"It was blatantly obvious there was a trauma there because there are flowers outside the shop."
University of Kent student Ms Zaks, 21, was found bludgeoned to death lying next to a railway embankment in Krakow on 30 July.
Ms Zaks, who had joint British and Polish nationality and lived in Canterbury, was staying with relatives in Krakow while working there for a month.
Her parents, who have no other children, travelled to Krakow to be with relatives and held her funeral in the city on Friday.
CCTV from the post office clearly captured Thursday's theft in which a woman distracted the cashier while the thief stole money from behind the counter.
But residents are angry with the response of Sussex police, who gave the crime a reference number but said no-one could visit until Tuesday.
"It is disgusting really that the police haven't bothered to come out to investigate when there is clearly evidence available," said Mr Christmas.
Former employee at the shop, Amanda Warren, said: "I was so angry when I found out, obviously with the people who have taken the money and with how it has been dealt with by the police."
Insp Chris Smith told the BBC police were aware of the CCTV.
"The matter has been logged and is at the early stages of the investigation," he said.
A 44-year-old bus driver arrested in Krakow last week is believed to have been charged with the murder of Ms Zaks.