Sandbags issued as heavy rain hits north-east England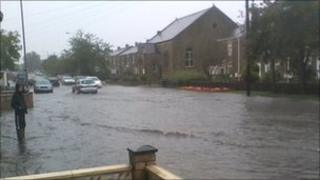 Only one flood alert remains in force in the north-east of England after torrential rain sparked localised flooding across the region on Saturday.
Emergency services received hundreds of calls, with parts of County Durham and Northumberland worst-hit.
Northumberland County Council and the fire service responded to dozens of requests for sandbags.
The Environment Agency said flood alerts were still in place for the rivers Pont and Blyth.
Several roads were closed for a time on Saturday and two properties struck by lightning, but there were no reports of injuries.
In some areas more than 30mm of rain fell within a few hours, with Durham and Darlington Fire Service describing conditions as "severe".
A spokesman for Northumberland County Council said: "Heavy rainfall throughout the day caused areas of surface water flooding.
"Northumberland Fire and Rescue Service and the county council's civil contingencies team have been working with officers in highways and neighbourhood services to deal with requests for sandbags and there have been road closures across the county.
The Environment Agency has issued flood alerts for the River Pont and River Blyth as levels are expected to rise slowly and further rain is possible on Sunday.
"The fire service and civil contingencies team will continue to monitor the developing situation."
Newcastle United's friendly match against Italian side Fiorentina at St James' Park was called off on Saturday after 64 minutes due to torrential rain, with the score tied at 0-0.
Durham Police said an incident room had been set up to deal with calls from the public.
Northumbria Police said some roads, including the A19 in North Tyneside, had been affected by the heavy downpours.