Polar bear attack victim Scott Bennell-Smith treated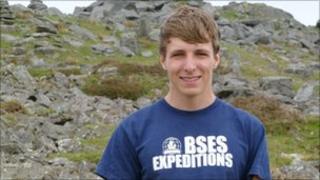 The parents of a schoolboy injured in an attack by a polar bear in the Arctic which left one other pupil dead, are at his hospital bedside.
Scott Bennell-Smith, 17, from St Mellion in Cornwall, is understood to have suffered a broken jaw and lost teeth in the attack.
He is in a stable condition at Derriford Hospital, Plymouth, after an operation in Tromso, Norway.
Eton pupil Horatio Chapple, 17, died after being mauled by the bear.
Scott returned to the UK on Sunday with fellow survivor Patrick Flinders, 16, from Jersey.
Family 'extraordinarily relieved'
Scott and Patrick, who is being treated at Southampton Hospital, were among four survivors injured on Friday at Spitsbergen island off Norway when a bear attacked their campsite.
Trip leaders, 29-year-old Michael "Spike" Reid, from Plymouth, who shot the bear and Andrew Ruck, 27, who is from Brighton but lives in Edinburgh, left hospital on Monday morning, a spokesman for the University Hospital in Tromso said.
The British Schools Exploring Society (BSES), a youth development charity which had organised the expedition, has not yet decided when the pair will fly home.
Kieran Earley, Scott's headmaster at Devonport High School for Boys, said: "I believe Scott was hit across the head by the bear and suffered a fractured jaw and lost some teeth.
"His family are extraordinarily relieved that he is back in the country and are catching up with him right now."
He said Scott was the first student from the school to go on the £3,000 trip to the Arctic Circle, which he described as "well-organised".
He cautioned against stopping teenagers going to dangerous places in the wake of the attack.
"They are keen to go out and experience the world," he said.
"I think we understand that when you take part in these activities there is a certain amount of risk.
"As long as the risks are being taken with a certain amount of common sense and preparation, children should go out and do them."
The attack took place early on Friday near the Von Post glacier about 25 miles (40km) from Longyearbyen.
There were 80 people on the trip to Spitsbergen, which had been scheduled to run until 28 August.
BSES, based in west London, is bringing the remaining members of the trip home.