Jury retires in Fiona Donnison child murder trial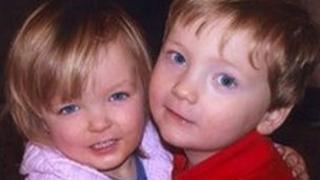 A jury has retired to consider its verdict in the trial of a mother accused of murdering her two children.
Fiona Donnison, 45, of Lightwater, Surrey, denies the murder of Harry, aged three, and two-year-old Elise.
Their bodies were found in holdalls in the boot of Ms Donnison's car, near the former family home in East Sussex.
The prosecution alleges Ms Donnison killed them to hurt their father, Paul. The defence claim she had depression and was not in her right mind.
'Ultimate pawns'
Judge Mr Justice Nicol told the jury of five men and seven women at Lewes Crown Court they must come back with a unanimous verdict.
Jurors have heard claims Ms Donnison, a former City worker, used the children as the "ultimate pawns", by killing them in order to hurt their father in the most extreme way possible.
Prosecutors told the court she smothered the children with their bedding before putting their bodies in the car.
Ms Donnison declined to give evidence herself during the trial.
But the defence argued she had suffered from depression at the time and said the charges should be reduced to manslaughter.
Jurors heard from mental health professionals who said she swallowed a blade from a pencil sharpener earlier this year, could not remember events surrounding the deaths, and could not bring herself to say the children's names.