Rural crime costs farmers in the East £8m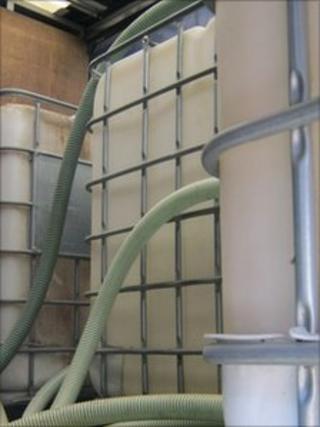 Criminals targeting rural areas in the East cost the farming industry £8m in 2010, according to a survey.
Insurer NFU Mutual said "agri-crime" was up 18% for the year, with heating oil, diesel, tools and quad bikes the top targets for thieves.
NFU rural affairs specialist Nicki Whittaker said high prices for scrap metal and oil had also had an impact.
"The East was the worst affected by oil theft in 2010 because we saw the cost of heating oil rise by 70%," she said.
The NFU Mutual Rural Crime Survey is based on claims handled by the company's branch offices throughout the UK during 2010.
'Lax security'
Nearly two thirds of its branches across the UK reported an increase in claims in 2010.
The survey showed concern that the countryside was difficult to police, with lax attitudes to security.
Charles Stennett and his family run a farm on the outskirts of Bury St Edmunds.
"The main problem we're having is diesel theft out of all the vehicles, and the other one is gas bottles that run the agriculture bird scarers," he said.
Mr Stennett said he had about 800 litres of red diesel stolen from a combine harvester overnight.
"With the price of red being about 63p a litre excluding vat, that hurts," he said.
The survey found that tractor theft was a big problem across the country.
Police initiative
Steven Taylor farms 500 hectares of wheat barley, oil seed rape and sugar beet near Sudbury.
"We had a tractor stolen four years ago from a field," he said.
"Since then we've taken a lot of precautions to safeguard our equipment and the premises with CCTV cameras and security posts in the road.
"All the vehicles have got trackers on them now and the keys are never left with the vehicles at night."
Mr Taylor said a neighbouring farm has also had a tractor stolen and that diesel had been taken from a lorry parked on his land.
In an attempt to tackle rural crime, last year Suffolk Police launched the Farmers Fighting Crime initiative.
Bernard Plume, a crime reduction officer, said farms in the region are visited and given specific advice on how to tackle crime.
"We've done this in line with current intelligence, the NFU security specialists, so we believe we're making a very comprehensive response to these issues," he said.
Ms Whittaker advised farmers to fit tracking devices to valuable equipment.
"Tractor theft is highly organised crime," she said.
"We've been successful in recovering tractors from afar afield as Australia, Africa and Cyprus, and repatriating them."