Petition claims Newmarket for Cambridgeshire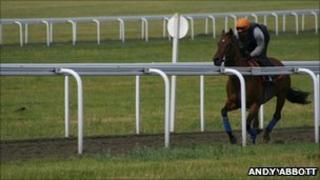 A petition has been started to find out if people in Newmarket would like the town to leave Suffolk and move into Cambridgeshire.
About 20% of the town, including part of its famous racecourse, lies within Cambridgeshire.
East Cambridgeshire district councillor Tom Kerby has created the petition.
However, Suffolk district councillor Warwick Hirst said he believed Suffolk should instead claim back the whole of Newmarket.
Mr Hirst sits on Forest Heath District Council, which includes Newmarket, while Mr Kerby represents Cheveley on East Cambridgeshire District Council.
'Ludicrous situation'
Mr Kerby said the current situation was "ludicrous" because Newmarket is surrounded on three sides by east Cambridgeshire.
He said: "You have residents living within Cambridgeshire, paying council tax to Cambridgeshire and using Suffolk facilities in Newmarket.
"We have two racecourses in the town. One is in Cambridgeshire and one is in Suffolk, so two different police forces are looking after them.
"I believe that Newmarket - world-renowned for horse racing - and Cambridgeshire, with its universities, its businesses, enterprise and technology, would link better."
Mr Kerby said he believed his call for a boundary change would be popular with residents because, he said, people in Newmarket and the surrounding villages look to Cambridge and Ely, rather than to Suffolk's county town Ipswich.
He said he also had an economic reason.
He said: "Cambridge has grown a hell of a lot.
"Its business and technology has grown over the years and we need to tap into that for Newmarket.
"A few people have said to me in the past that Newmarket's looking shabby, retailers are disappearing.
"We need to do something and I feel that building an association with Cambridge would benefit us both."
John Bridge, chief executive of the Cambridgeshire Chamber of Commerce, said he acknowledged the logic of Mr Kerby's argument.
"We genuinely believe that there's much more in common between Newmarket and Cambridge, from an economic point of view, than they have with the other parts of Suffolk, and Ipswich in particular," he said.
Newmarket is already part of the Greater Cambridge-Greater Peterborough Local Enterprise Partnership.
'Look to Newmarket'
He added: "Businesses don't necessarily recognise the arbitrary administrative boundaries... but Newmarket is very much a part of the Cambridge business world."
However, Mr Hirst said what he "ideally" wanted was for the rest of Newmarket to be included in Suffolk, along with surrounding villages like Cheveley.
While Mr Hirst said he agreed the importance of the business links with Cambridge, he said the Newmarket residents he spoke to did not want to be part of Cambridgeshire.
He continued: "I don't think they particularly look to Cambridge - or Ipswich actually. They tend to look to Newmarket."
Mr Kerby now has to gather at least 200 signatures on his petition from Newmarket's Forest Heath residents.
He can then present his findings for debate at the next full council meeting of Forest Heath District Council in October.