Hull, Leeds and Sheffield lose cycle paramedic service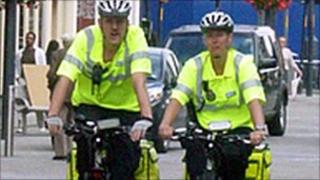 An NHS trust has suspended cycling paramedic services in three Yorkshire cities.
The Yorkshire Ambulance Service NHS Trust has taken the Lifecyle quick response service off the road in Hull, Leeds and Sheffield.
The service is still in operation in Harrogate and York.
The trust's Paul Mudd said: "We've re-seconded the staff back on to traditional ambulances and rapid response vehicles."
The move follows a review by the trust of its staff and resources.
Mr Mudd, the trust's Assistant Director of Operations, said: "We've suspended service for the time being. We are looking at all resources to get the most efficient use."
Insufficient demand
Mr Mudd did not rule out a resumption of the service and claimed that resources and patient demand were reviewed monthly.
The trust believed there was insufficient demand for the service in some areas.
Hilary Benn, Labour MP for Leeds Central, said: "It sounds like it is being cut and it is not going to come back.
"If that is the case, I think this is very sad news."
Mr Benn said the ambulance service does a "great job" but said the cycling paramedics had "added to the service".
The cycle response units use adapted bicycles that carry medical equipment in panniers and are designed to navigate quickly through pedestrianised and built-up areas.
Mr Mudd claimed the services did "have its limitations".
The Lifecycle service was first introduced to York and then tested in Leeds in 2005. The scheme in Harrogate was started in May 2011.