Oxfordshire and Warwickshire canal closures cause long delays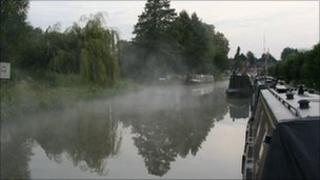 A leak on the canal bed and a lack of rainfall are being blamed for delays on canals.
Lock openings at Claydon, Oxfordshire, and Napton, Warwickshire, have been limited to 10:00 to 14:00 BST each day to reduce water loss.
A leak at Braunston, Northamptonshire, has exacerbated problems already caused by a lower than expected rainfall.
Boaters said that because locks were closing before boats could pass through, large queues were developing.
British Waterways said it was doing all it could to minimise disruption for the weekend's Cropredy Folk Festival, in Oxfordshire.
The festival usually attracts large number of visitors by canal.
Lee King, maintenance manager of British Waterways in the south east of England said: "Clearly a large number of boat users attend the festival so we're expecting lots of movement.
"We're improving the flow from a couple of reservoirs so we can try and get water into the canal faster."
Temporary fix
Locks enable canal boats to travel up or downhill.
On Wednesday, a team of contractors were attempting a temporary fix for the problem to avoid closing the canal completely.
British Waterways said doing so would "reduce the restrictions and allow a longer period of navigation every day".
Caroline Firth, from near Buckingham, said as she travelled up the Napton flight 30 boats were coming the other way.
She added: "If you're not through in time, you're stuck for the night.
"But if there's a water shortage there's a water shortage.
"If it's too shallow and we all get grounded all the time then they've got no choice. Some boats have touched bottom."
The four-hour limits on the locks are due to be reviewed on Monday.
In the meantime boaters are asked to wait at unblocked locks and go through in pairs to save water.