Man held over Bournemouth riot mobile message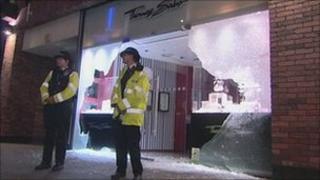 A man has been arrested on suspicion of trying to incite a riot in Bournemouth.
Dorset Police said the 23-year-old was being held amid reports that messages had been forwarded on a mobile device about planned disorder in the town.
Twenty-five officers from Dorset Police have been sent to Bristol after trouble broke out in the city on Monday.
One inspector, three sergeants and 21 police constables will be drafted into the city after a mutual aid request from Avon and Somerset Police.
Dorset Police said the force had put contingency plans into action, including extra patrols across the county.
Assistant Chief Constable Adrian Whiting said: "Our priorities are to protect people and property in Dorset, clearly demonstrated by this afternoon's arrest.
"The people of Dorset can be reassured that anyone suspected of committing such offences will be investigated and, if appropriate, rigorously pursued through the criminal justice system."
A Dorset Police spokesman said: "Safer neighbourhood teams have been monitoring community tensions and our partners and communities are telling us they are appalled by the events they have seen in the news.
"There is nothing to indicate any copycat disorder will take place in the county of Dorset."
About 150 people are said to have been involved in the trouble in Bristol.
Avon and Somerset Police said five arrests were made in the city.
More are expected as CCTV is reviewed.