Parliament recalled as riots and violence spread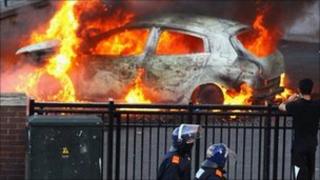 "What do you say to the many people who fear this is all running out of control?"
That was the question I put to the Deputy Prime Minister, Nick Clegg MP, who was in Birmingham to inspect the damage on the day the recall of parliament was confirmed.
Mr Clegg had been meeting senior officers in West Midlands Police HQ.
He told me they had reassured him they would have more resources on the streets than they had the night before, when they had struggled to deal with 34 incidents and made over 130 arrests around the city.
Widespread frustration
Less reassuring for the Deputy Prime Minister was the mood among some of the crowds of people he encountered during his city centre walkabout.
"Go home," shouted some. Others simply jeered.
Mr Clegg dismissed them as "a few troublemakers". But there is a widespread sense of frustration here.
Mr Clegg was echoing the earlier caution expressed by Home Secretary Theresa May when asked whether or not the police should be allowed to deploy water cannon for what would be the first time in mainland Britain, or to exercise their powers to use baton rounds.
But by the time the Prime Minister himself travelled to Birmingham the next afternoon, another night of violence had spread across the West Midlands and the North West.
'The fightback'
Mr Cameron declared 'the fightback' was under way.
It is a clear measure of the extreme seriousness with which he and his colleagues on COBRA view this deteriorating situation that the police will indeed be allowed to use water cannon at 24 hours' notice, with their powers to use baton rounds reaffirmed.
This is even though they have shown a marked reluctance to do so at the time of writing.
Having taken part in discussion programmes on BBC WM and our other local radio stations, again and again anxious listeners express views generally in line with the week's YouGov poll.
The poll suggests strong support for a 'get tough' approach by the police, with nine out of 10 supporting the use of water cannon.
The West Bromwich East MP, Tom Watson, joined calls for a generally more robust police response after shops had been ransacked and vehicles set ablaze in the town's High Street.
The problem, as one listener very succinctly put it, is "the police are damned if they do and damned if they don't".
If they go in strong they may be publicly censured for 'undue force'.
If they hold back, they face accusations of standing by while looters help themselves to mobile phones, designer clothes and flat screen televisions.
'Ratchet effect'
It all takes me back to a conversation I had during the 1980s with the then West Midlands Chief Constable, Geoffrey Dear, following the riots at Handsworth in Birmingham.
Mr Dear, who as Baron Dear now sits as a cross bencher in the Lords, warned me of what he called "the ratchet effect": the danger that any escalation on one side might exacerbate the violence on the other.
And his present-day successor Chris Sims is equally keen to keep these disturbances, however distressing, in their place.
"This," he told us, "was not an angry crowd, it was a greedy crowd".
So are we seeing the ultimate display of consumerism running riot? Or a reflection of a deep-seated malaise in society's so-called "underclass"?
Would blaming it all on "the cuts" amount to a slur on the thousands of decent men and women exercising their right to legitimate, peaceful protest?
These will be among the questions for our recalled parliament and will no doubt reverberate over the months and years to come.
Right now though, for our political masters it is all about regaining control of the streets.
The great British public have been turning out in impressive numbers armed with no more than brooms to sweep up the debris.
It's not just "a few troublemakers" in Birmingham who feel entitled to decisive answers from Westminster.