Digital switchover in South Yorkshire and Chesterfield starts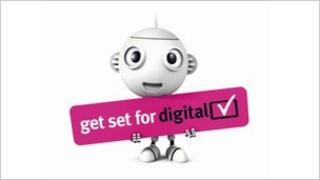 The digital switchover has started in South Yorkshire and Chesterfield, as analogue signals are turned off.
The switchover will happen in two stages, with the first beginning on Wednesday, 10 August.
BBC Two will cease broadcasting in analogue and BBC digital channels will become available for the first time.
All terrestrial TV services will be off air during the night. They are expected to begin being restored at from about 06:00 BST.
In areas which are served by relay transmitters, the services are expected to resume by mid-morning.
All Freeview, BT Vision and Top Up TV viewers will need to retune their equipment to regain missing channels.
The second stage will take place on 17 August, when all remaining analogue channels will be turned off.
This will affect BBC One, ITV1, Channel 4 and Channel 5.
They will be replaced with additional digital services
The rest of the Yorkshire TV region will follow the same two stage process, carried out transmitter by transmitter, until 21 September.
The BBC is running the Switchover Helpscheme to help people to convert their TV to digital if they are aged 75 or over, are eligible disabled, have lived in a care home for six months or more, or are registered blind or partially sighted.
To find out more, call the Helpscheme on 0800 40 85 910.