HMS Bulwark gets Olympic sailing command role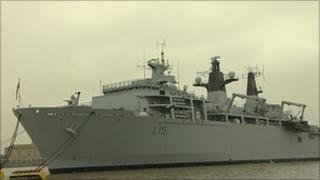 A Devonport-based warship is to be used as the command and control vessel for the security operation surrounding the Olympic sailing events next year.
The Royal Navy's amphibious assault ship HMS Bulwark will be stationed off Weymouth and Portland in Dorset.
It will have a specialist unit of Royal Marines on board, with the capability to deal with terrorist threats and to provide a deterrent against attack.
The Alibion-class landing platform dock has recently undergone a major refit.
Bulwark's landing craft and aircraft now have full tactical night vision.
'Range of capabilities'
The £32m refit took eight months to complete at Devonport Dockyard in Plymouth.
It means whether by air or by boat, the ship - one of the two biggest in the Royal Navy - can quickly land the marines unit.
Mike Critchley, a former Royal Navy officer who now owns Maritime Books and Warship World magazine, told BBC News: "The attraction is it's got a lot of bunks on board, so it can gobble up a lot of people who are in Weymouth to do whatever - be it security or a thousand and one other jobs that will be done around the Olympics."
Bill Tupman, a security analyst from the University of Exeter, said HMS Bulwark was capable of taking on a number of roles.
"It can be the headquarters for a group of Royal Marines and it can provide all sorts of intelligence facilities and all sorts of electronic facilities," he said.
A statement from the Ministry of Defence said it expected to contribute a range of capabilities to the 2012 Olympics.
The extent of that support is still to be determined, with the specifics currently being finalised, it added.
HMS Bulwark is currently berthed at Devonport.