Shrien Dewani: Judge rules SA extradition can go ahead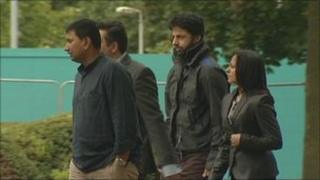 A judge has ruled that a man accused of ordering the murder of his wife on their honeymoon in South Africa can be extradited to stand trial.
South African prosecutors say they have evidence that Shrien Dewani paid a Cape Town taxi driver to arrange his wife Anni's murder.
Mr Dewani, 31, from Bristol, denies any involvement in the killing.
He fought extradition proceedings at Belmarsh Magistrates' Court in London, arguing he is too unwell to face trial.
Home Secretary Theresa May will make the final decision on whether to extradite Mr Dewani to South Africa.
His legal advisors have said they may lodge an appeal.
Vulnerable to abuse
Mr Dewani, a care home owner, is said to be suffering from severe post-traumatic stress disorder and has been detained at a Bristol clinic.
He faces charges of murder, conspiracy to commit murder, robbery with aggravating circumstances and obstructing the administration of justice.
District Judge Howard Riddle, who took more than two hours to read out his judgement, said the "court must consider the strong public interest in honouring our extradition treaty".
He said while he had "no doubt" that Mr Dewani was suffering from severe post-traumatic stress disorder and depression, and remains at high risk of suicide, he was satisfied Mr Dewani would receive the appropriate mental health care in South Africa.
He said Mr Dewani, whom he described as "good-looking, youthful and physically well-preserved", would be particularly vulnerable to sexual abuse in a South African jail.
But the judge said he was satisfied that Mr Dewani would be held in a prison with good facilities and that he would be kept in a single cell.
He added that Mr Dewani is "highly intelligent, an advantage not shared by many criminals in courts" and it should now be for the South African courts to decide if he is guilty.
"Either Mr Dewani arranged for his new bride to be brutally murdered or he himself has been the victim of a terrible tragedy," he said.
Mrs Dewani, 28, from Sweden, was shot when a cab the couple were travelling in was hijacked in the Gugulethu township in Cape Town last November.
'A nightmare'
Her body was later found in the abandoned car. Mr Dewani had been released unharmed.
Speaking outside the court, Mrs Dewani's father Vinod Hindocha said Wednesday's decision was fair and "one step to closure".
"It's about my beautiful daughter Anni, not forgetting her," he said.
"I'm sure she'd be very, very happy today to hear the decision.
"I wish Shrien a very speedy recovery so he can now put his head down and help the police and clear his name."
Ami Denborg, Mrs Dewani's sister, said the past few months had been "a nightmare", but the family was happy with the decision.
"Nothing will bring back my beautiful little innocent sister who was killed," she said.
"But getting this decision today at least we will get somewhere."
Mthunzi Mhaga, spokesman for the South African National Prosecuting Authority, said: "We are pleased with the finding made by the judge and encouraged that the South African legal system is internationally recognised but we don't get too excited because that finding is subject to approval by the home secretary."
Mziwamadoda Qwabe, 25, and Xolile Mngeni, 23, are charged with murder, kidnapping and robbery with aggravating circumstances.
Taxi driver Zola Tongo, 31, from Bothasig, Cape Town, has been sentenced to 18 years in jail for murder, kidnapping, robbery with aggravating circumstances and perverting the course of justice.