Leatherback turtles 'could return' to South West coast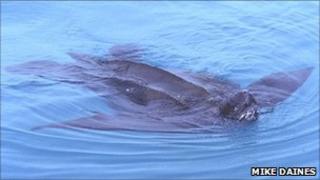 Scientists hope it will be a bumper year for leatherback turtles off the South West coast.
So far this year, 16 turtles have been seen in British waters, with a quarter reported off Cornwall, said the Marine Conservation Society (MCS).
It said more sightings were expected in August as the turtles return to UK waters after breeding in the Caribbean.
About 20 turtles are reported off the UK each year, although more could be seen in 2011, the MCS said.
"The turtles are coming from their nesting grounds in the Caribbean and come into UK waters past the South West Peninsula," he said.
Dr Richardson said there were plenty of jellyfish reported in UK waters, which the species feeds on. He expects more reports from Cornwall and Devon over the summer.
He said that other sightings from Dorset and South Wales had been made this year.
Dr Richardson said: "Up to 75% of turtles reported in British waters are leatherbacks, we occasionally get loggerhead and green turtles as well."
"In 2002 and 2005 there were about 70 sightings of leatherback turtles around the British coast.
"Since 2007 there have been 20 or less reported each year," he said.
The Atlantic Ocean has become the last stronghold for the leatherback turtle, the MCS said.