Further TJ Hughes store closures confirmed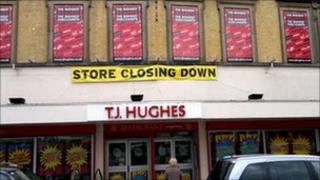 Further closures have been announced for branches of department store TJ Hughes between 16 and 18 August.
Over 450 jobs will be lost when stores in Middlesbrough, Preston, Southend, Bristol, King's Lynn, Newport, Ipswich and Maidstone close.
Twenty-two stores have already closed this week, after the Liverpool-based group called in administrators in June.
A Salford branch, due to close on 12 August, shut three days early after being damaged in Tuesday night's riots.
A spokesperson for the branch said its 22 members of staff would still be paid for those days affected by the trouble.
A spokesperson for the Union of Shop, Distributive and Allied Workers (USDAW) called the new closures "bitterly disappointing".
Administrators Ernst and Young had hoped to find buyers for the stores.
Difficult period
John Gorle, USDAW National Officer, said: "I'm certain that some of these stores will reopen in the near future under different ownership and fascias, and I hope any new owners will seriously consider employing former TJ Hughes staff."
Some shops, including those in Liverpool and Widnes, have been bought by Lewis's Home Retail.
Staff at the stores which are closing are being offered support and advice throughout the redundancy process, administrators said.
TJ Hughes called in the administrators in June - putting 4,000 jobs at risk - after a difficult period of trading.
GA Europe bought the chain's £10m debt and is overseeing clearance sales at the stores across the country.