London-Surrey Cycle Classic expected to draw thousands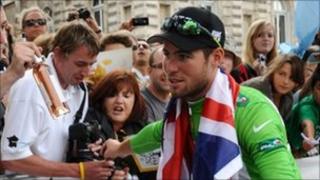 Thousands of people are expected to line the streets to watch up to 140 cyclists take part in a London 2012 test event in the city and Surrey.
The London-Surrey Cycle Classic route will see riders make their way down The Mall, through west London and then out to Surrey and back on Sunday.
A number of roads will be closed between 06:00 BST and 14:15.
The event was given the go-ahead despite concerns about police resources following the recent riots.
British Tour de France star Mark Cavendish is expected to take part in the race, which starts at 09:05 and passes through Fulham, Putney, Richmond Park, Hampton Court Palace and five Surrey boroughs.
'World's top riders'
Riders will also make two circuits of Box Hill, which is a Site of Special Scientific Interest (SSSI).
The event is a dress rehearsal for next year's Olympic Road Race, which will take place on 28 and 29 July.
Supt Jerry Westerman, from Surrey Police, said: "This event presents a significant challenge for the force as the race covers a large part of the county resulting in a number of major roads being closed.
"Public safety is our number one priority and we are focused on working with our partners to deliver a safe and secure event that can be enjoyed by all.
"The road closures will of course have some effect on local communities but we will be working hard with the organisers and local authorities to ensure disruption is kept to a minimum and we are asking for the public's understanding and patience."
Denise Saliagopoulos, of Surrey County Council, said: "This will be a really high-class race and a fantastic way to show what's in store when the rush for Olympic glory hits Surrey's roads next summer.
"It has attracted some of the world's top riders and I'm sure supporters will turn out in their droves to back Mark Cavendish and his GB team-mates along the 50 miles of the Surrey course.
"We have done everything possible to keep disruption to an absolute minimum and have worked long and hard with all the organisations involved to make sure the race runs smoothly and successfully."