Two arrested after girl, 3, rescued from roof in Essex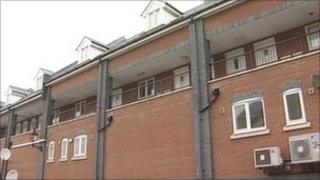 Two people have been arrested on suspicion of child neglect after a three-year-old-girl was rescued from the roof of a four-storey block of flats.
Essex Fire Service said the girl climbed through a window in Colchester before slipping and getting her foot trapped in guttering on Friday.
The youngster was rescued by a neighbour on a communal balcony.
A 27-year-old man and a 28-year-old woman are being questioned.
The fire service said the neighbour had saved the child's life.
Station officer Joe Hassell said: "The little girl had managed to climb out of a window from her flat on to the sloped roof of the block of flats, she slipped and her foot became caught in the guttering and she was in a very precarious position.
"Luckily a neighbour was on the communal balcony area and came to her rescue just in time, he climbed over the balcony and wrapped his leg around the railings and reached the little girl.
"The neighbour, a man in his 30s, undoubtedly saved this little girl's life. Thankfully he brought her to safety in the nick of time. If he had not have been there, it would have been a very different outcome."