Devon and Cornwall Police return from London riots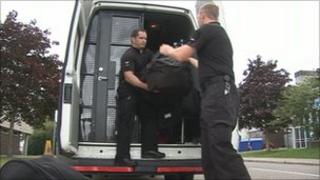 Twenty-seven officers from Devon and Cornwall Police seconded to help deal with rioting in London have returned to their own force area.
The officers returned on Friday after assisting the Metropolitan Police, the Devon and Cornwall force said.
But another team of 27 has been sent to replace them, it added.
Further teams of 27 each were to remain on duty in Bristol and in Gloucestershire over the weekend, Devon and Cornwall Police said.
'Gangs in the hundreds'
Describing what they faced in London, Sgt Kevin Roberts said: "There were buildings being set on fire, there were cars being set on fire.
"There were looters going around in gangs in the hundreds, and they were attacking the police and attacking members of the public.
"That was the type of things we were facing when we arrived."
There were no reports of any injuries to the team.
Officers were also continuing high-visibility patrols throughout Devon and Cornwall over the weekend, the force said.
The patrols have included the deployment of 200 members of the force's 650-strong special constabulary.
Ch Supt Steve Swani, of Devon and Cornwall Police, said: "We continue to see no incidents of disorder and the intelligence picture is suggesting no reason for anything to happen.
"We remain vigilant and our officers, working with the special constabulary, will be out in force over the weekend talking to communities and reassuring them wherever possible."
He said the force was continuing to monitor social networking sites and reinforced that officers would take action against anyone posting material likely to incite crime or disorder.
Both home football games involving Plymouth Argyle and Exeter City went ahead as planned.