Rescuer tells of saving girl of three from roof in Essex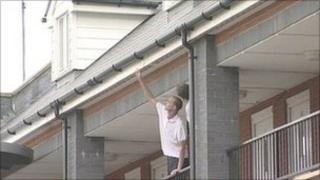 A neighbour who rescued a three-year-old girl from the roof of a four-storey block of flats has spoken to the BBC.
The girl climbed through a window in Colchester before slipping and getting her foot trapped in guttering on Friday.
The Essex Fire Service paid tribute to the girl's rescuer Stephen Williams for saving her life.
Mr Williams told the BBC how he grabbed the girl as she put her feet over the roof gutters.
'Slipped over edge'
"I looked out and could see the bottom of her feet and then as I was trying to get myself ready, she turned herself around and she ended up sitting in the gutter," he said.
"Then her legs slipped over the edge and as they slipped over, I reached up and grabbed her."
A 27-year-old man and 28-year-old woman were arrested on suspicion of child neglect.
The man has been released without charge. The woman has been released on police bail pending further inquiries.
Essex Fire Service Station officer Joe Hassell described the incident on Friday: "The little girl had managed to climb out of a window from her flat on to the sloped roof of the block of flats, she slipped and her foot became caught in the guttering and she was in a very precarious position.
"Luckily a neighbour was on the communal balcony area and came to her rescue just in time, he climbed over the balcony and wrapped his leg around the railings and reached the little girl.
"The neighbour, a man in his 30s, undoubtedly saved this little girl's life. Thankfully he brought her to safety in the nick of time. If he had not have been there, it would have been a very different outcome."