Swan known as 'Mr Asbo' treated for arthritis by RSPCA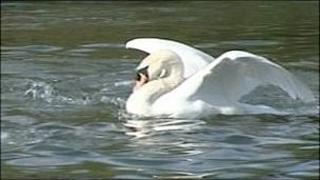 A swan whose aggressive behaviour earned him the nickname Mr Asbo is being treated for arthritis.
A member of the public alerted the RSPCA to the swan which appeared to be in difficulty on the River Cam in Cambridge.
The swan, which has attacked boaters on the river on a number of occasions since 2009, has been taken to the RSPCA Norfolk Wildlife Hospital.
Vets treating Mr Asbo said a toe may need to be amputated.
Alison Charles, the centre's manager, said that staff were treating inflammation in the swan's left foot and described Mr Asbo as "fine in himself but on a lot of medication".
She added that an X-ray would be carried out to determine how far the arthritis had spread, and the results would determine whether it needed to be amputated.
'Swimming in circles'
"We've had to amputate parts of swans' feet before and they are perfectly fine to be released back into the wild," Mrs Charles said.
"Some people ask if they will then swim around in circles, and I just say 'don't be so daft'."
Mr Asbo is currently not living up to his reputation as an aggressive swan.
"In the wild he's just doing what swans do, and defending his territory, but in here he's perfectly lovely. He's not an Asbo swan at all," she said.
Whether the swan has to undergo an operation or not, staff at the hospital say they will return him to his home on the River Cam "as soon as possible".