Surrey council apologises for pre-2012 bike race road closures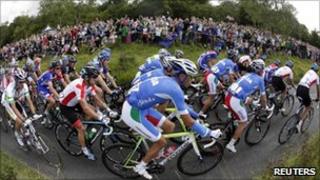 Complaints about road closures during a cycling test event for the London 2012 Olympics have led to a council apology.
The London-Surrey Cycle Classic, on Sunday, took riders on a return route from The Mall in London to Box Hill.
BBC Surrey was contacted by residents complaining about road closures and inaccurate road signs.
Councillor Denise Saliagopolous said Surrey County Council would be learning from the test event and apologised for any inconvenience.
'Tremendous work'
Ms Saliagopolous, cabinet spokesman for London 2012 in Surrey, said the local authority would be sitting with partners including the London 2012 Organising Committee and Surrey Police to look at what could be learned from the event.
But she added: "All in all, I think it went extremely well. We haven't heard of any incidents. People were kept safe. We had no reason to call upon emergency services.
"A race of this magnitude is a tremendous amount of work and we will be learning from yesterday and we do apologise if some roads weren't open when they said they would be."
Reigate resident Tim Nelson said that in Dorking wardens, police and drivers became increasingly frustrated as roads were cleared but no routes were created for drivers to cross the town.
He said: "There was plenty of communication going on, but nobody seemed able to make any decisions.
"It appeared that Surrey County Council wanted to clear the whole race sector before any crossing point in the town could be opened."
Surrey Police said the route in the county was lined by tens of thousands of people.
The force provided support to 4,800 marshals, stewards and volunteers and assisted the council which closed about 350 roads on the route at varying times.
Supt Jerry Westerman said: "The race was a significant challenge for the force and was a huge event in its own right."
He added: "On the whole the public response has been fantastic and I would like to thank the county's residents for their co-operation and understanding, particularly anyone who was inconvenienced by the road closures implemented by the county council."
The race started at The Mall before heading through west London and into Richmond Park.
The cyclists then passed Hampton Court Palace, Walton-on-Thames, Guildford and Dorking before two circuits of Box Hill in Surrey, which is a Site of Special Scientific Interest (SSSI).